2014 Champions JD Kyle and Jack Belt
Two hundred and nine teams from the AC Tournament Trail converged on Alabama's Lake Guntersville March 6th through the 14th, for the 2014 Tournament of Champions. The tournament was hosted by Jackson County Tourism. The city of Scottsboro lived up to its reputation as one of the friendliest cities in the country. Local businesses rolled out the red carpet to welcome the four hundred plus participating anglers, and went to great lengths to ensure all the anglers needs were met.

Guntersville is one of the most popular reservoirs in the country. It is a sprawling 69,100 acre fishery that boasts 900 miles of shoreline, and stretches 75 miles from Nickajack lake to the Guntersville dam. It is home to a healthy population of trophy largemouths, and double digit weight fish are common.

The AC Tournament Trail, Tournament of Champions is one of the most highly anticipated of all team tournament championships. Teams fish a series of "qualifying" tournaments on their home waters, to earn a position in this prestigious field. They might be weekend anglers, but make no mistake, they have honed their fishing skills to a keen edge. The competition is fierce, as each team vies for the coveted top spot. With a total prize and cash package approaching the $200,000 mark, you have all the ingredients for a great event. If that wasn't incentive enough to get the competitive juices flowing, as an added bonus, this year competitors were competing for the opportunity for a berth into the Bassmasters Classic.

AC Tournaments President Rick Byrnes officially welcomed all of the teams at the pre-tournament meeting and banquet on Wednesday evening. The teams enjoyed a Ribeye Steak and sides, catered by Western Sizzlin' Steak House, followed by the presentation of points champions awards, for each respective division.

Mother Nature made the event even more interesting as a massive cold front swept through the region via 25 to 35 mph winds. The air temperature dropped from a high of 73 degrees the afternoon before the tournament, to a brisk 28 degrees with the tell-tale blue skies of high barometric pressure, Thursday morning. Many areas became saturated with mud due to the waves created by the wind. Weather not-with-standing, however, Guntersville proved it is the fishery it's reputed to be.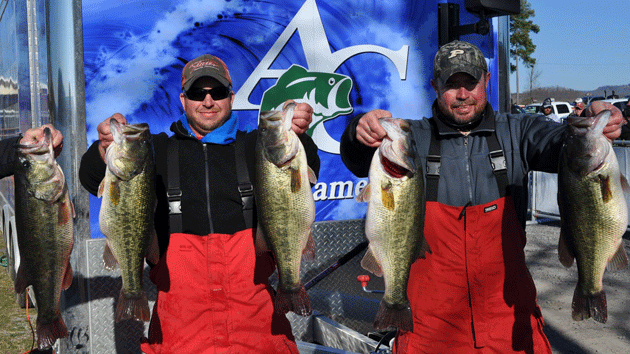 J.D. Kyle and Jack Belt day one 33.83lb stringer
Jack Belt and J.D. Kyle found themselves leading an impressive field at the end of day one, by virtue of their five fish limit that tipped the scales at 33.83 pounds.

"We had a miserable practice," said Belt. "We spent most of our time dealing with mechanical issues, and that used up most of the four days we intended to pre-fish."

The team settled on an area less than a mile from the host marina at Goose Pond. "The motor was running a little better after we had it worked on but we still didn't feel comfortable running very far," Belt added. "We happened to find a couple of areas with isolated rock that was close to take-off, and one of those spots is where we caught all of our fish."

Day one concluded with eight teams weighing in five fish limits that were over twenty-nine pounds! In 2011, on this same lake, not one team weighed in a five fish limit that heavy, in either day of competition. In the 2012 championship only one team did it. Lake Guntersville, was living up to its legend, proving true AC Tournaments President Rick Byrnes' prediction of "an epic event."

Holding on to second place after day one was Stephen Farley and Brandon Taylor with 30.15 pounds. Kerry Betz and Jim Hamersly would take the third place slot with 29.80 pounds.

Typically in a two day tournament the weights often drop considerably the second day. That axiom would not hold true for this event. Observers of the day two weigh-in witnessed three five fish limits that exceeded 30 pounds. An incredible eleven two day totals of five fish limits would pull the scales beyond the 50 pound mark. Two of those limits would break the 60 pound mark.

Securing the win with another 30 plus pound sack of fish, was Jack Belt and J.D. Kyle. Not strangers to the podium, this team barely missed a win in the 2011 Tournament of Champions. They came in second in that tournament. This year they would claim their second new Legend boat, only this time as the champions. Their two day, 10 fish total weight came to an impressive 64.7 pounds.

"We were able to get on our same spot on day two, but by mid-day our best five fish were all 2.5 pounders," said Belt. "We threw 3/4 ounce Buckeye Jigs for two days, and finally I got the 9.2 pounder in the afternoon. We were able to cull our small fish after that, but it came down to the wire before we culled the last one."

Belt and Kyle took home a certificate for a new Legend Alpha 191 with a 200 Mercury ProXS, and $2500.00 cash. They are sponsored by Pure Fishing, and Buckeye Lures.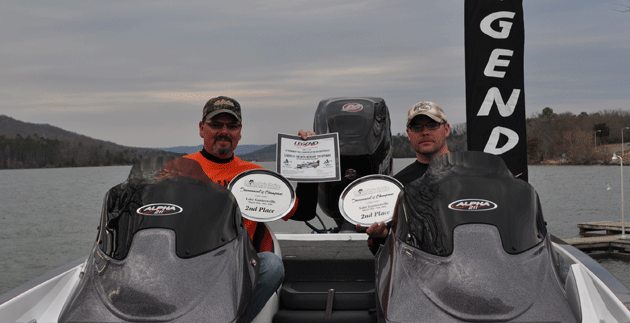 2nd Place Bobby Hawes and Glenn Bates
Bobby Hawes and Glenn Bates would take second place honors by virtue of their two day total of 60.54 pounds. They reported throwing umbrella rigs both days. With the boat sitting in 20 feet of water they cast their "A" rigs toward the bank. Hawes and Bates concentrated on the main river, but also fished creek bluffs, and bridges, during the two day event. They took home a certificate for a Legend LE 186 powered by a Mercury 150 Opti. They also took home $1450.00 for their effort. They are sponsored by Dupo Marine.

Kerry Betz and Jim Hamersly held tight to their day one Third Place slot and finished the tournament in that position. They weighed in a two day, 10 fish total of 58.53 pounds and took home $4564.00.

Draw Boat & Day 1 Big Bass Aaron Ault and Jason Herrell
Big Bass of the tournament went to Aaron Ault. He weighed in a 10.03 pound beauty that netted him $1000.00. Ault and partner Jason Herrell would also claim the draw boat prize. They collected a certificate for a Legend LE 186 with an Mercury 150 Opti.
As always the expectation was for a great event, and Guntersville did not disappoint. In any tournament that a team weighs in a ten fish limit that exceeds 40 pounds they have had a good tournament, but as in this tournament, when 58 teams do it, that truly is an epic event.

Written by Ron Niswonger